Conference And Coneventions
This depicts a setup for a conference for a MNC brand where in they were roping in new clients for a new product. The white board, projector, screen, laptop,
wireless earbuds
lapel mic system, were all provided by us.
Dated April 27 2018
Lunch and eductaional trainning programme at our Banuqet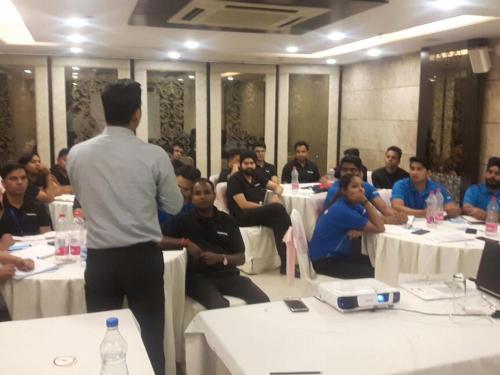 This is an ongoing training programme for a newly launched product, as you can see the entire setup is high tech and depicts a calm and composed group of trainees thanks to the wonderful Air conditioning despite sweltering Delhi heat outside.
Date 22 April 2018
Hotel Metro View Delhi Karol Bagh
Setup for a conference at our terrace hall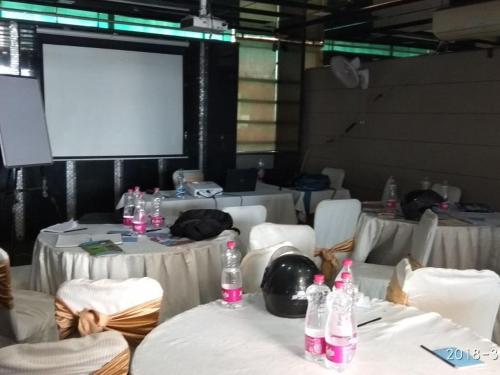 A small yet humble abode for the trainees and trainer, the organisers and the clients, no matter how you choose to depict or realate to them, they are extremely content with the quality of serivces provided here.
Dated 18 April 2018
Gautam Gambhir at a launch event at our Banuqet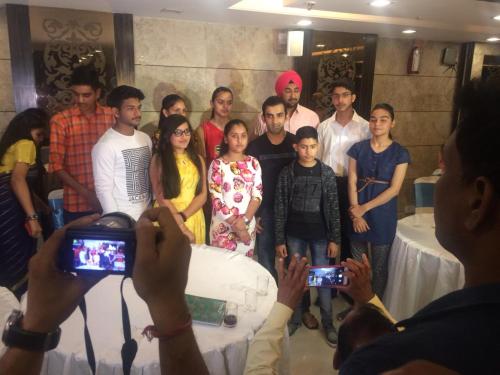 Cricketer turned celebrity Gautam Gambhir showed up at a launch event at our banquet hall in karol bagh.
Party place & venue for celebrations of family
Dated 12 April 2018
Ring Ceremony and engagement party at Banuqet athotel metro view
A small get together to see and celebrate the Ring Ceremony and Roka function of a young couple was held at the classic banquet and party hall which are next to pusa road in karol bagh. In thier words the food was lip-smacking.

Dated 10 April 2018
Happy New year 2018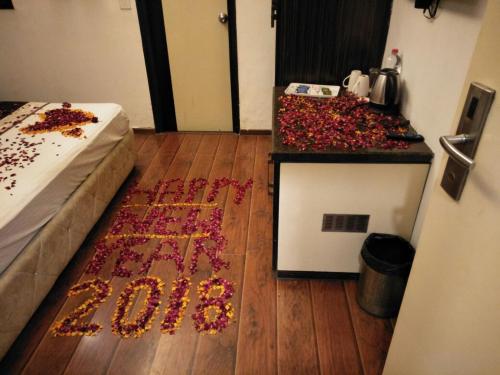 A room was finely decorated on request from Guest.
The guests were immensly sastisfied with the Hotel and left fully satisfied and content.
Dated 01 Jan 2018
Business meet with product presentation at Banquet halls in Karol bagh, relaxing and productive thanks to Split AC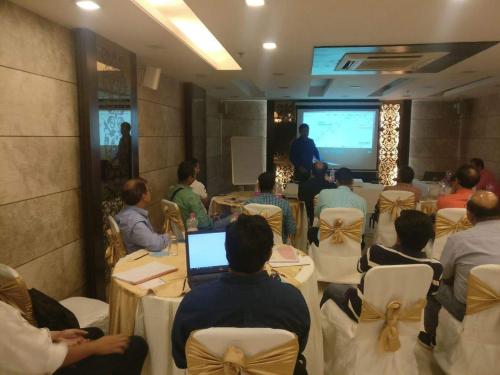 A business house held a business meeting together with a presentation of some vital information and a product presentation in front of their business associates and distributors. The organisers made good use of the projector and conveniently were on video conference with the help of our dedicated high speed Internet tunnel. The meals were cherished and the guests left happy and organisers were in delighted.
Seminar in banquet halls in karol bagh Delhi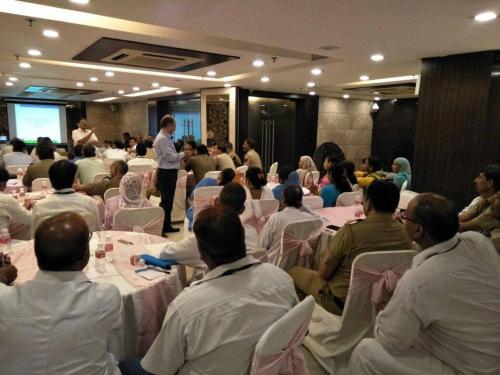 This is another ongoing seminar at Hotel Metro View in Delhi. The technology pack was chosen in which 2 collar lapel mics one public handheld mic and HD projector system and multiple note writing pens were provided. Each table had refreshments such as chewy or mouthfreshner present to keep the audience engaged.
Dated 26 July 2017
Training session for the security staff of a Big Organisation
The picture is of a training programme held for the security staff of a Big Indian company. The attendees enjoyed the seminar and found the food to be of delicious taste. The programme session was of 5 hours excluding lunch break.
Dated 17 Dec 2017
Seminar at best banquet hall in Delhi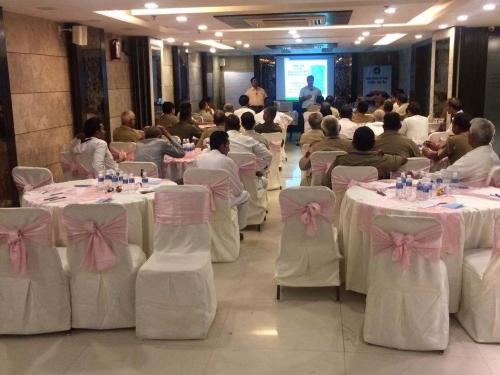 The employees of a PSU attended a seminar aimed at training and imparting the attendees with critical knowledge and know how about latest technology used in their work of feild. The all were happy and loved the lavish spread provided during lunch break.
Dated 12 Dec 2017
Conference and party at Hotel Metroview in Delhi near Pusa Road
A small conference was held at our roof top terrace hall / lounge. The hall is accompanied with open views of the city and this setup is favorable to some. This halls doubles up as a Banquet and party hall because of the attached terrace garden waterfall and scenery on offer.
Dated 30 Dec 2017
Classic classroom setup for seminar and examination
A classic neat and tidy setup for the attendees of this particular seminar in which they training is imparted and then a small written examination /feedback is taken. A projector with slide control and mic system was provided too. The central Delhi location of our hall was the main point besides the simplicity of banquet hall and delicious food. By the time it was evening the hosts put on some music and the seminar turned to a mini party too.
Dated 27 Dec 2017
Party hall and banquet in Delhi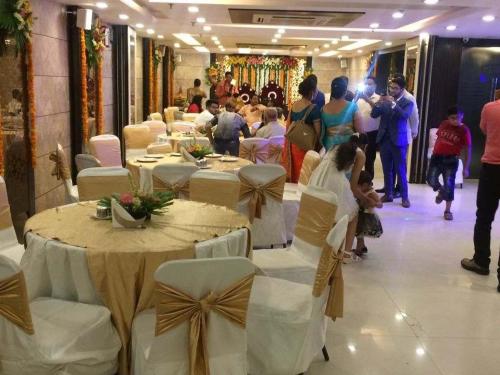 A marriage anniversary of a young couple was held at our Banquet hall and party venue. The picture is from early hours of party and it was a night that will surely be long remembered by all those who were a part of it. There was dance music masti food fun enjoyment all around. All the guests left laughing and after thorough enjoyment and satisfaction. Probably the best banquets in Delhi at this price.
Evening tea options with full balloons decoration and themed party
Dated 21 Dec 2017
Conference hall in Delhi Karol Bagh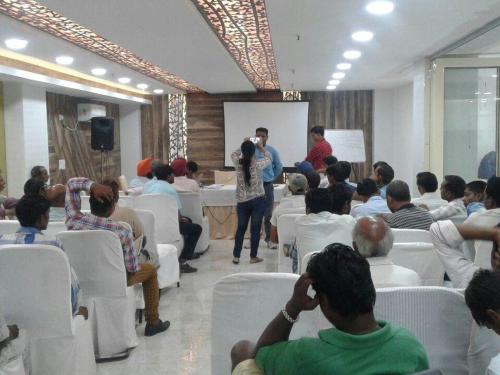 A NGO hired our halls and held there conference here, their proposed purpose was very well sorted, in which they held a meaningful seminar followed by a party and music afterwards.
They took the lunch at our restaurant and were more than pleased with it.
Dated 15 Dec 2017
Conference & Seminar in our Party halls in Delhi
UdA full banquet conference of youngsters who are to promote sales of a new product are being briefed and trained about it.
The Brunch meals were simple, minimalistic yet fully satisfying to every last one of them.
Dated 12 Dec 2017
Best Training venue in Delhi for new products
Another full hall event for training of a upcoming new product. The organizers took the electronics package consisting of projector system with
speaker
and mic systems. The entire training session was a grand success which was topped of by a extra supper meal in the evening. Dated 10 Dec 2017
Celebration of Marriage anniversary with Dinner in our restaurant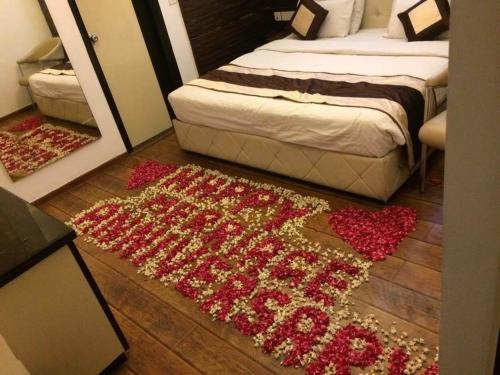 A young couple celebrated their wedding anniversary at our Hotel and we tried our level best to make this occasion a memorable one for them. They had a lovely dinner at our restaurant. Dated 9 Dec 2017