Banquet halls venue in Delhi at Hotel Metro View Karol Bagh
Delhi has a extremely varied temperature and seasonal differences and with that comes the need to have venues and banquets which are weather proof. Banquets in Delhi need to be able to provide shield against extreme heat of Summers and at the same time be able to provide a cozy environment in the Winter season.
Hotel Metro View provides banquet facilities which can cater to a wide variety of needs such as birthday parties, wedding anniversary party, farewell party, family dinners, friendly get togethers, kitty party, roka ceremony, engagement party, cocktail parties, mehndi, sangeet function and even destination weddings.

Banquet hall options in Delhi
We have 4 banquet options with us for capacity varying from 15 PAX to 120 PAX. Small parties can be held at out scenic roof top lounge, while parties demanding more capacity may be held at our larger banquets.
Banquet price range
The price for banquet can vary from being 4000 lumsump to 450 per pax as the starting rates. Additional food items, lavish menu, delicacies can be had for very low rates. For smaller parties food can be orders on ala carte basis or even on fixed menu system.
Banquet hall decoration at Hotel Metro View
The venue hall can be decorated as per the requirement with flowers, cutouts, balloons, props etc as per the requirements. We can have mood lighting installed to if it is needed for a themed party. The UV light can also be arranged for parties where neon colors or white color is the theme of party.
Music is arranged by a professional DJ system and is available for free* for most parties at our Banquet venue. Live music can also be arranged at additional charges, but for most purposes DJ music can satisfy all music needs.
Lighting at the Banquet halls in Delhi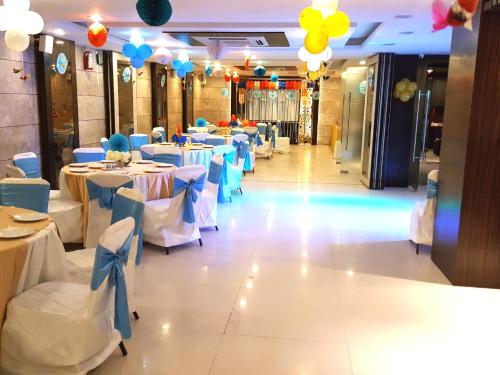 The Banquet hall is pre installed with plentiful lighting but if it is needed colorful themes lighting can be arranged for your special event, to make the entrance stand out or to lit the stage up in a shade of pink.
Vast menu option at Hotel Metro View
Banquet of hotel metro view have the very best of Chef who prepare delicious food items which will leave your taste buds asking for more. Vast vegetarian / non vegetarian / jain food options are available all the year round. We have some great menu options to choose from starting as low as 450 per person + taxes.
Banquet hall for corporates in Delhi
Banquet halls are also suited to corporate and business clients owing to the extremely approachable location and services and solution provided on site. Some of the services provided include, projector systems, high quality microphone sound system, laser pointers, white boards, lease line internet connectivity, various seating arrangements among other services.
Usage as a conference venue at Hotel Metro View
Our halls can be used as conference halls, seminar halls, exhibition centres, training halls, convention centres, residential conferences, auction events. The property features Best facilities to suit corporates and their needs.
Quality of fixtures at the Banquet halls in Delhi
Banquet halls at Metro View has seating is of the highest quality together with the tables, they don't wobble at all. We Chinaware is well kept and completely new. Together with shining silverware our crockery set is as best as it gets. For even twice the price point of other banquets our crockery is unbeatable.
Extra feature of the Banquet in Delhi at Hotel Metro View
With booking at our Banquet halls we Provide along with is valet services to avoid any parking hassles. We also provide with complimentary stay in our hotel room for the organisers*. In case of special needs we can provide our kitchen if you want your own chef to cook special regional delicacy for your outstation or elderly guest to feel comfortable.
Click here for various setup options and more to read.